…forgotten soap relatives!
Do you know what's been getting our goat lately? How some characters seem to completely forget that they're related to other characters! Cases in point… Corrie's Michelle and Liam Michelle is a repeat offender when it comes to forgetting her nearest and dearest. Remember her son Alex? No, neither does our 'Chelle. But Ms Connor's also […]
Click here to read the rest…
…Neighbours' Susan saving Lou!
How amazing is Susan Kennedy? Now we can add saving Lou's life to the massive list of reasons for us to love her! We were lucky enough to catch up with Jackie Woodburne, who plays the magnificent Mrs K, when she was in the UK recently and she told us all about filming tornado week: […]
Click here to read the rest…
…the EastEnders explosion!
Oh, no! The Square's on fire! We told Alfie not to do it. Mick told Alfie not to do it. Alfie knew he shouldn't really do it. But he has done it. He's set a fire in the Moon/Slater house and typically it's all gone wrong. It was never really going to go right, was it? […]
Click here to read the rest…
…Hollyoaks' Cameron burning the red cap!
Hang on a minute. Did we just see what we think we saw in tonight's first-look Hollyoaks? Did Cameron really just burn a red cap? A red cap identical to the one worn by the man who was driving the van that killed the Lomaxes? And does that mean Cameron's the killer? Minds. Blown. All […]
Click here to read the rest…
…Robert Sugden returning to Emmerdale!
As soon as Andy Sugden mentioned he'd got a text from estranged brother Robert, we hoped that meant Robert would be on his way back to Emmerdale soon – and now it's been confirmed and we're thrilled! Robert and his adopted brother, Andy, have been at loggerheads for years. Robert always had beef that although […]
Click here to read the rest…
…the amazing Hollyoaks autumn trailer
OMG, check out the new Hollyoaks trailer for what's coming up this autumn! How brilliant does this look? A wedding on a train? A crash? New McQueens? Drowing, death, destruction and Dodger with his kit off! What more could anyone ask for?! What do you think of it? Let us know @allaboutsoapmag!
Click here to read the rest…
…Neighbours' tornado week!
Things are getting rough down in Erinsborough this week when some wild weather hits Ramsay Street. There's drama in store for just about everyone as a tornado whips through the street causing chaos and destruction in its wake! Amber and Daniel are caught right in the tornado's path as they head out to take photos […]
Click here to read the rest…
…saving Eccles!
Tracy Barlow has done some terrible things in her time, but accusing Eccles of savaging little Amy surely takes the (dog) biscuit. Poor Eccles has done nothing wrong! She's a victim of toxic Tracy and her dodgy daughter, who's rapidly becoming a chip off the old block. Eccles has been a constant companion to Deirdre – […]
Click here to read the rest…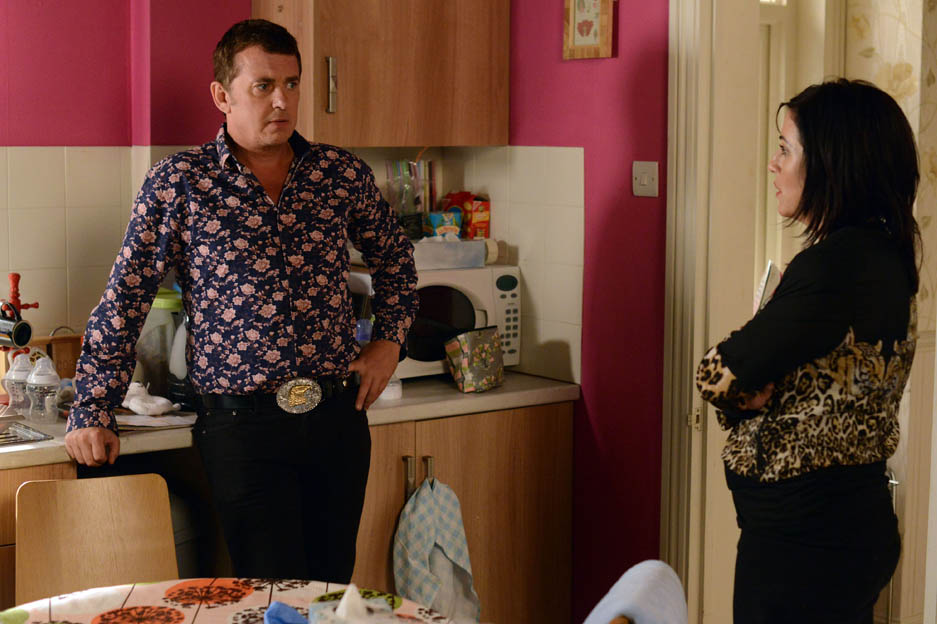 …What EastEnders' Alfie should have done!
So, EastEnders finished tonight with Alfie Moon looking at his contents insurance and coming to the conclusion that his only option is to set fire to his home to make a claim. We're not quite sure what Alfie thinks he's going to gain from the insurance job – most companies will only replace the damaged items like […]
Click here to read the rest…
…Hollyoaks' Theresa's jailbreak!
Theresa McQueen's attempt to bust out of jail didn't exactly go very well in tonight's first-look Hollyoaks, did it?! After last night discovering Theresa was pregnant (who's the father? Do we really believe it's just a random prison guard?) and was planning to fake her labour to get to hospital, where Mercedes would break her […]
Click here to read the rest…