…saving Eccles!
Tracy Barlow has done some terrible things in her time, but accusing Eccles of savaging little Amy surely takes the (dog) biscuit. Poor Eccles has done nothing wrong! She's a victim of toxic Tracy and her dodgy daughter, who's rapidly becoming a chip off the old block. Eccles has been a constant companion to Deirdre – […]
Click here to read the rest…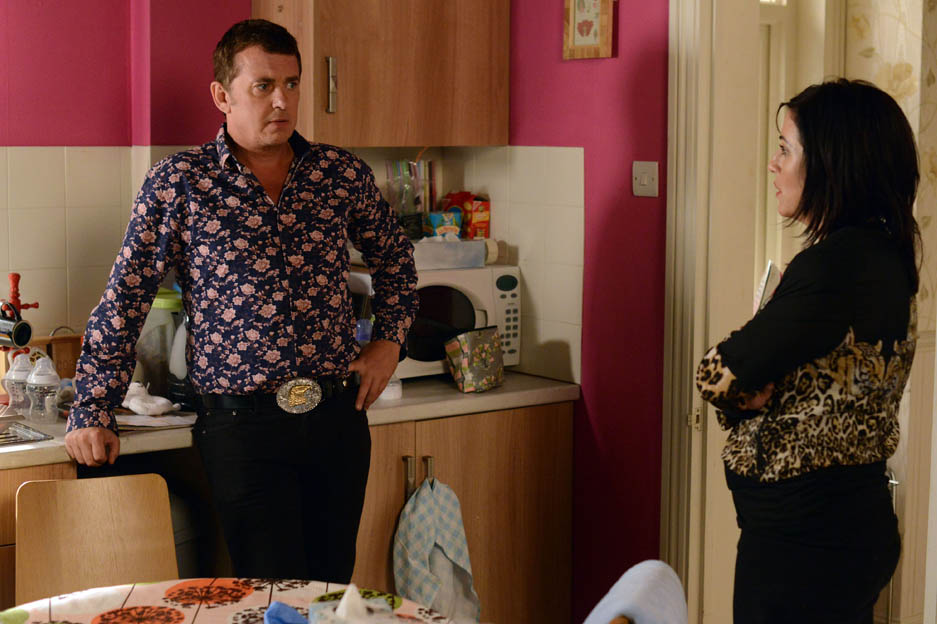 …What EastEnders' Alfie should have done!
So, EastEnders finished tonight with Alfie Moon looking at his contents insurance and coming to the conclusion that his only option is to set fire to his home to make a claim. We're not quite sure what Alfie thinks he's going to gain from the insurance job – most companies will only replace the damaged items like […]
Click here to read the rest…
…Hollyoaks' Theresa's jailbreak!
Theresa McQueen's attempt to bust out of jail didn't exactly go very well in tonight's first-look Hollyoaks, did it?! After last night discovering Theresa was pregnant (who's the father? Do we really believe it's just a random prison guard?) and was planning to fake her labour to get to hospital, where Mercedes would break her […]
Click here to read the rest…
…if Emmerdale's Laurel and Marlon will get married!
Oh, things are a bit of a mess for Laurel and Marlon, aren't they? Such a shame. Perhaps planning a wedding so soon after Donna's death wasn't the best idea after all… As preparations go, Laurel and Marlon's have gone pretty badly. First off, Marlon almost missed the rehearsal. Then Marlon and Paddy shared a […]
Click here to read the rest…
… Corrie Kylie's big choice!
Corrie's Kylie Platt's life is a bit of a mess right now, but we definitely don't think taking Max's ADHD medication is the answer to her problems! It's been a tough few weeks for David's gobby missus, as she's struggled to come to terms with Max's ADHD diagnosis, as well as look after the rest […]
Click here to read the rest…
…Soap faces we want to return!
With Ryan back for a shock cameo appearance in last week's EastEnders, it's got us thinking who else we'd like to see come back to soap. Do you agree with our list? Tell us on Twitter! EastEnders: Sean Slater Walford is crying out for this buff bad boy to make a return. Stacey's back, Jean could […]
Click here to read the rest…
…the heartbreak ahead for Walford's women!
Oh, this super-sad trailer for the next few weeks of EastEnders has us sobbing! Looks like there's tough times ahead for Kat, Sharon and Linda. Will they come through it? What do you think? Let us know!
Click here to read the rest…
…the clues in EastEnders' amazing trailer!
So we've spent all weekend poring over every shot of the awesome EastEnders autumn trailer – and we're very excited! We have tons of questions flying around our heads, but here are the main ones… Who gets shot? The trailer ends dramatically with what sounds like gunfire, with the camera trained on the Mitchell house – […]
Click here to read the rest…
…EastEnders' Jay's police interview!
Have you been wondering what's been happening to Jay since the police took him away on Friday? Here's a sneaky look…
Click here to read the rest…
…EastEnders' Jay in trouble!
It was only a matter of time before the police came calling for Jay after he burnt the beanie. And in true 'Enders fashion, they didn't manage to catch him in the privacy of his own home – they accosted the bloke right in the middle of The Vic's barbecue! Our ears pricked up as […]
Click here to read the rest…