In the Magazine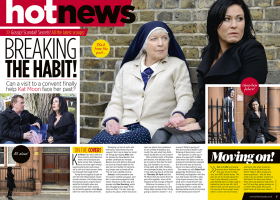 All the latest news and gossip!
Kat's still in meltdown, honestly, can anything help her get through this difficult time? She turns to Alfie, but can they repair their marriage? Seeing no other way out, Kat decides to visit a convent – but what secrets does the house of God hold? And can she finally find the answers she needs to put the past behind her?
Chats with all the biggest soap stars!
Good or bad? Nasty or nice? Caring or conniving? We just haven't got a clue who EastEnders Aunt Babe really is, so we caught up with actress Annette Badland to see if she could shed some light on her alter ego. Find out what she had to say about Babe's need to be loved.
All the stars' fashion tips!
Hollyoaks' Phoebe McQueen might not be the most stylish character in the soap, but Mandip Gill who plays her sure scrubs up all right! We talked to her all about her taste in clothes, how differently she dresses in real life, and how much she hates matchy-matchy outfits.
All the best TV shows and highlights!
There's lots of don't miss TV this fortnight – from Peter Kay's new comedy to Sheridan Smith's heartbreaking drama, and Kirstie and Phil helping out couples who hate their homes, with this and all the soaps, you'll never want to leave your sofa!