In the Magazine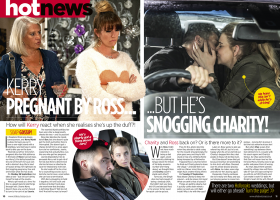 All the latest news and gossip!
Kerry's one of our fave Emmerdale characters and it's hard not to feel sorry for her after her drunken mistake with Ross, but will she be forced to tell Dan everything when she fears she might be pregnant? Is Kerry carrying Ross's kid? And will he even care because it looks like he's too busy snogging Charity! What's that all about? Throw some Debbie news into the mix, and it's a messed up fortnight for the Barton boy!
Chats with all the biggest soap stars!
A night out at a traffic-light party starts out as fun and laughs for Ellie Nightingale as she tries to get over Freddie with newcomer Nick Savage. But as the evening wears on and the drinks flow, things take a terrifying turn the next day when she wakes up in bed with him but with no memory of what happened. We found out about the dramatic sexual consent storyline from both Ellie and Nick's side during a chat with Sophie Porley and Ben Ryan-Davies.
All the best beauty tips!
Da da da da da da da, da da da da da! Strictly Come Dancing is back on our screens and we're loving it so we've taken inspo from the top telly show and have a round up of all the best glitzy, glamorous, and sparkly beauty buys to make dancing our Saturday nights away one stylish affair.
The hottest TV!
We're keeping the Strictly theme going as Zoe Ball returns with It Takes Two, giving us all the backstage gossip every single day of the week. Plus, there's brand new thriller The Level, new comedy, Damned, and impersonation show Morgana Robinson's The Agency. Throw in a bit of the hilarious 50 Ways to Kill Your Mammies, and we've got one top fortnight of telly treats.