In the Magazine
All the latest news and gossip!
The Carters have had a pretty rocky ride recently and things aren't getting any easier as they try to pick up the pieces following Stan's death. Despite the old man's cantankerous ways, he was part of the family and they're struggling to cope without him. With Dean in prison, Cora upset at being left out, and arguments about money, can the family keep it together?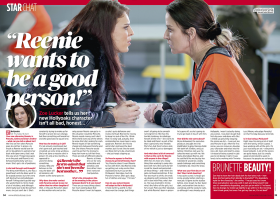 Chats with all the biggest soap stars!
Former Footballers' Wives and EastEnders' star Zoe Lucker is joining Hollyoaks as Porsche, Celine and Cleo McQueens' mum, Reenie. This fortnight, Porsche visits her in prison and is shocked when her mum demands her daughter get her cash to keep her away from the family. We caught up with Zoe to find out if Reenie really is all bad…
All the stars' fashion tips!
Emmerdale's gorgeous Fiona Wade gives us her top clothes tips and a glimpse inside her wardrobe. She tells us how she really looks after her clothes, the styles, shapes and colours she knows suit her, and why she can't bear 'try hard' fashion.
All the best TV shows and highlights!
The biggest search for a star returns for a new series as Britain's Got Talent hits our screens. Hosts Ant & Dec and judges Simon Cowell, Amanda Holden, David Walliams and Alesha Dixon tell us what it's like to be back, what they're looking for this time round, and whether Simon's forgiven David for beating him to an NTA!